A lot of people don't know this, but it takes roughly $8,000 a day to run Wildlife Safari. Our park, being a non-profit organization, needs all the help it can get, especially during the winter when it's our slow season. We rely solely on gift shop/restaurant purchases, admissions, memberships/adoptions, special events, and donations. We get no state funding. This doesn't leave us much money in the end for things like new exhibits and animals. We have many gorgeous birds and mammals that are currently off display, because we have nowhere to show them off the public. The LAWS auction we have every year helps give us money towards new enclosures, but it's usually only focused on one, as they are expensive to build. Our new lion/tiger breeding center costed around $250,000 itself.
It's because of this that I'm asking for your guys' help. I can't remember if I mentioned this or not, but earlier this month our male White Rhino, Shoddy, died. He was the oldest white rhino in captivity, at close to 47 years old. We expected him to go long ago, but it still hurt everyone when he finally did depart.
Most of all, it hurt our female White Rhino, his mate, Taryn. Shoddy is the only other rhino Taryn had ever known. They were an inseparable pair, more loyal to each other than any other animal I've seen. Taryn never let Shoddy too far out of her sight. One time, he wandered down to one of the feeders while she was sleeping, and as soon as she woke up and realized he was gone, she immediately jumped up and came charging down the hill after him. We were worried she was going to ram someone's car along the way, because nothing in her path was going to stop her. Once before we had gotten a new, young rhino because Shoddy's health was failing, but suddenly he started acting like he himself was young again, and we had to pen the younger one up because Shoddy would charge at him whenever he got to close to Taryn. They aren't the prettiest animals, but the love they showed for each other was beautiful.
When Shoddy died, Taryn was heartbroken. For the first few days she kept running around looking for him.Calling out for him. Eventually she seemed to realize he wasn't going to come, and she went to the barn they shared up on the saddle and she's been there for most of the time ever since. She still calls for him every now and then, though I think she knows it's useless. She gets a little better every day, but she's still so upset over the loss of her mate. Patches said that when she came in the other night, Taryn was walking along the road between Lions and the first feeder, sniffing the whole way.
What I'm asking for is anything you can possible spare, to help get us a new rhino. Even a dollar would help. It's going to cost around $8,000 just to transport one here and get it vet checks along the way. The rhino itself will probably cost close, if not over, a hundred thousand.
We've been having little kids from the area sending us their allowance money along with letters. One girl sent $8.50 saying it was all she had, and drew a picture of a rhino with the words "P.S. Sorry" at the bottom. We're gonna send it in to the newspaper and have them publish it.
If you'd like to donate something, you can paypal here-
Finance@WildlifeSafari.org
Or send check/cash/money order here-
Wildlife Safari
P.O. Box 1600
Winston, OR 97496

Make sure to write "New Rhino Fund" or "Donation for New Rhino" in the comment option on paypal/along with your anything you mail
They also ask that you include your address so they can send you a thank you card (and gift depending upon the size of the donation)
Thanks a lot everyone. And if anyone would like to help spread the word, it would be much appreciated.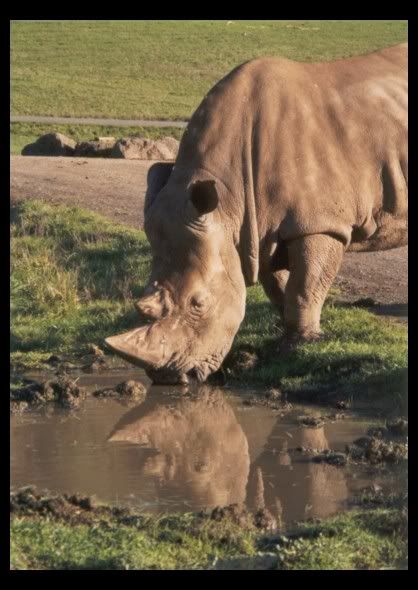 Shoddy 1960-2006
----------------
I'd like to say thanks for all the comments/faves/watches, and even just to those of you who stop by and take the time to look at my stuff. I'm kinda bad at replying to comments usually, but it doesn't mean I don't appreciate them.